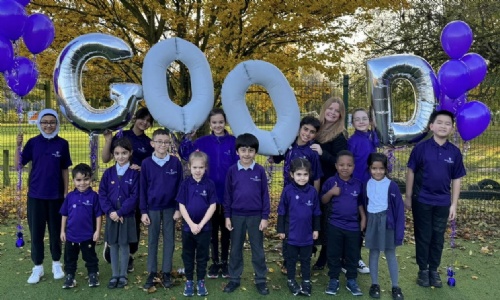 Pupils and staff at Bishop Creighton Academy, which is part of Greenwood Academies Trust, are celebrating today after receiving 'Good' in all areas following a recent Ofsted inspection.
The report describes the academy as a 'happy and friendly school at the heart of the community' and says that the school's aims, for pupils to be 'confident individuals, responsible citizens and future ready', have been met.
There is a predominant theme that runs throughout the report regarding Bishop Creighton Academy's success in integrating digital technology in everyday learning. Ofsted describes the academy as a 'forward thinking school' which supports pupils to 'prepare for life in the modern digital world'. The report provides numerous examples including how pupils each have their own virtual coach which gives immediate feedback on their reading. The inspector recognised that this approach 'gives pupils the confidence to use technology throughout the curriculum'.
The inspector also noted that 'pupils know how to live healthy and active lives' and 'successfully develop their physical development through a range of extra-curricular activities'. The report describes how older pupils are working hard to cumulatively 'walk to the moon' by tracking their steps using special fitness watches.

Trustees from Greenwood Academies Trust are reported to have 'secure processes that help them check how well the school is doing and consequently, they successfully hold leaders to account'. Staff are also said to 'value the professional development the school and trust provide'.
Additional highlights from the report include that:
'Pupils feel safe and cared for, they look forward to coming to school.'
'Expectations of behaviour are high; pupils display positive attitudes to learning.'
'Trusting relationships exist between the school, pupils and their families.'
'Staff model calm, respectful and caring relationships.'
Victoria Redhead, Executive Principal at Bishop Creighton Academy, said:
"I'm incredibly proud of the whole team at Bishop Creighton Academy for the outcome of this report. It is especially wonderful to have our digital transformation journey recognised and praised by Ofsted. We really mean it when we say we want our pupils to be 'future ready'! Thank you to all the staff, pupils, parents and carers, our Trust, and the wider community for contributing to our success."
Wayne Norrie, Chief Executive Officer at Greenwood Academies Trust, added:
"This report was a joy to read. Bishop Creighton Academy is led and supported by a brilliant team of colleagues and it is fantastic to see their see their hard work and dedication praised by Ofsted with Good judgements across the board. The passion and enthusiasm at this school for using digital technology to help prepare children for the modern world is inspirational, it's no wonder children look forward to coming to school and display positive attitudes to learning."
Beyond the inspection, Bishop Creighton Academy has also recently celebrated becoming a Microsoft Showcase School for the fifth consecutive year in recognition of their expertise in collaborating with others and sharing how they use technology to enhance learning in the classroom.