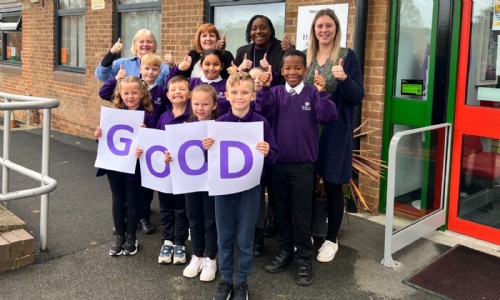 Staff and pupils at Hazel Leys Academy in Corby are celebrating after Ofsted said it 'continues to be a good school' following an inspection in early October.
The academy, which is part of Greenwood Academies Trust, is described as 'vibrant and inclusive' with the report also stating that 'respect is central to everything'.
Pupils are said to 'enjoy school' and 'benefit from many experiences to bring their learning to life'. The report highlights opportunities that the academy provides its pupils including visiting museums, going on residentials, and meeting interesting people to inspire them in setting goals for their future.
The report praises the academy for setting high expectations. It asserts that 'pupils rise to these and take pride in their school' and that they 'want to do their best for themselves and their school team'. Older pupils are said to 'set positive examples as pupil councillors, as members of the sports crew and as reading ambassadors'.
Ofsted inspectors saw evidence that pupils' mental and physical well-being are prioritised including learning about different beliefs and family structures, having a clear understanding of right and wrong, and having an age-appropriate understanding of relationships education. The report stated that pupils are being 'prepared well for life in modern Britain'.
Staff are described in the report as being 'proud' to work at Hazel Leys Academy and support recent change because 'it has been in the best interests of the pupils'. There have been many staff changes within the last two years but new staff appreciate that they 'quickly become part of the supportive team.'
Principal, Beverley Trotman, said: "We are all delighted to receive this Ofsted report."
"To be described as vibrant and inclusive as well as inspectors finding that pupils enjoy school, staff are proud to work here, and that parents and carers appreciate their children are happy and safe, is joyous. We believe it's these things that are at the heart of what makes Hazel Leys the good school that it is."
"Thank you to all my colleagues, our wonderful pupils and their parents and carers for the outcome of this inspection."
Chief Education Officer at Greenwood Academies Trust, Annette Montague, added: "Leaders at Hazel Leys have worked really hard alongside Trust colleagues to make improvements from what was already a 'Good' school, including to review the curriculum and improve subject guidance for teachers as the report highlights."
"Staff at the academy have taken recent changes in their stride; all with a smile on their faces and a shared understanding that everything we do is for the good of the children in our care."
"Everyone at Hazel Leys should be extremely proud of this report. It is an accurate reflection of the academy, and a testament to the dedication and passion of everyone associated with the academy. Leaders have ambitious plans and will use the inspection feedback to continue their improvement strategies, taking the academy from strength to strength."