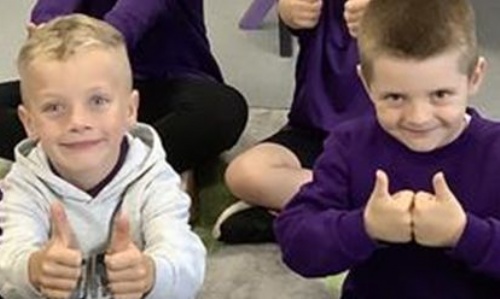 Pupils and staff at Danesholme Infant Academy are celebrating after the Academy achieved a Good Ofsted rating. Ofsted praised Danseholme leaders for the progress made since its last inspection saying, "meeting individual pupils' needs is at the heart of leaders' action at the school".
The Academy has undergone a transformation with leaders and the Trust overhauling its systems and routines. As a result, Ofsted has upgraded its rating, earning Good across quality of education, behaviour and attitudes, personal development and leadership.
During the inspection, the Academy was praised for being warm and welcoming and inspectors noted that the school's behaviour values of kindness, respect and achievement permeate daily life. Teachers' and leaders' relationships with families were also recognised and credited for helping improve attendance.
Alongside this, teaching and learning at Danesholme Infant Academy was applauded, with the report noting that, "leaders have worked hard to improve the curriculum for reading, writing and mathematics" and "continue to refine the wider curriculum". Overall, leaders were commended for raising expectations and aspirations for all pupils.
Additional highlights from the report include:
Leaders work tirelessly to ensure pupils have positive experiences of education
Leaders ensure pupils see different role models, e.g. female pilots and male nurses
Where needed, pupils with special educational needs and/or disabilities are quickly identified, and teachers adapt the curriculum to help them access the whole curriculum
A warm, welcoming smile greets pupils every day and the Academy is a safe place
Parents and carers appreciate how staff nurture relationships
Children in the early years enjoy their time at the Academy
The Trust has supported leaders to improve the Academy, including through staff training.
Despite these positive comments, the Academy is committed to continuing these improvements, especially within its early years provision. This was recognised by Ofsted which said, "leaders have clear ambitions to build on the improvements that have been made".
Carol May, Head of Academy at Danesholme Infant Academy, said:
"We are exceptionally proud of our Good Ofsted rating. Our community of staff, pupils, families and the Trust have been working together to enhance our provision and ensure we provide our children with the best possible start to their education.
"It is fantastic to see both the ethos and atmosphere of the Academy praised as well as the academic strengths we have achieved for our pupils.
"We would like to say a huge thanks to our colleagues and community and look forward to continuing to make further improvements as the Academy continues to excel."
Wayne Norrie, CEO of Greenwood Academies Trust, added:
"Danesholme Infant Academy's brilliant team of colleagues has made tremendous improvements for its pupils over the last few years. I am delighted to see this hard work and dedication to excellence reflected in this latest Ofsted inspection and look forward to continuing to support the Academy to provide high-quality education to its pupils."